Eldorado Stone Supplier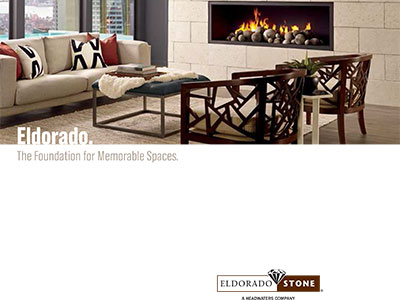 Eldorado Stone Brochure »

Founded in 1969 in Carnation, Washington Eldorado Stone has been manufacturing the finest manufactured stone products for over 45 years, as demonstrated with our undeniable passion for creating authentic products that not only elevate quality and design, but also attainability.

Stone. Brick. Fireplace Surrounds. Outdoor Living. The company has become the leading manufacturer of architectural stone veneer with an unwavering reputation for high quality products and outstanding customer service. Eldorado Stone continues to leverage its industry knowledge and passion for creating authentic products. Bruder, Inc., supplies a fine selection of Eldorado Stone products throughout Cleveland and Northeast Ohio.

Call Bruder, Inc., today at (216) 791-9800 or contact us with any questions.


Click on the images below to view a larger display.


Photo 1

Photo 2

Photo 3

Photo 4

Photo 5

Photo 6

Photo 7

Photo 8