About Us
Bruder Inc. continues a tradition of service to the masonry industry started by R.L. Queisser Sr. in 1905.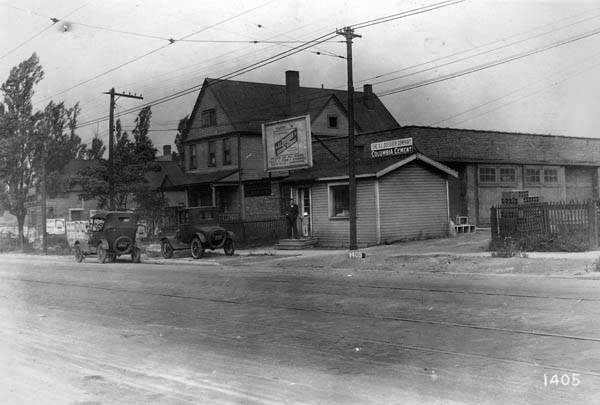 1905 – Ironspot Ohio*, population 300 gets a name and a post office at the coaxing of Ohio Press Brick Co. manager R.L. Queisser serving to promote the speckled brick he sells.

After several years Queisser is off to Cleveland, Oh and by 1915 operates R.L. Queisser Co with son R.L. Queisser Jr.

Brick is not all that R.L. Queisser Sr. promotes. In 1917 he designs and patents the Blue Star Service Flag to honor his two sons serving in World War I. A flag which remains in use today to honor family members in active military service.

1945 +/- Colonel R.L. Queisser Jr. sells his Builder Supply business to his number one salesperson Bill Bruder.

Meanwhile, in the 1920's Bill's brother Dave & his wife Ida operate Bruder Cartage hauling building materials for Queisser and others and coal for heating homes. Dave has roots in the shipping & distribution world having watched his father peddle paper and rags from a horse drawn wagon to the fish vendors and other businesses around the Woodland Ave. market in Cleveland.

Fast forward to a Sunday in 1945 when Robert Bruder returns from service in WWII to be greeted by his father who welcomes him home, tells Robert to enjoy the day off and show up for work on Tuesday. Robert builds the Cartage Business and is soon off to work for Uncle Bill Bruder selling brick, block and gypsum materials. Ed Bruder, joins Bruder Cartage and continues to grow the trucking business with his special humor and kindness.

Racing through to the 1960's and 70's Robert and Ed spend long days at work and hours after dinner taking orders from customers who are too hard at work to leave the jobsite during the day to hunt for a pay phone. Early 1970's brings a car phone the size of a loaf of bread, radio connected through a switchboard operator, improving Roberts ability to respond to where his time and attention is needed.

Robert Bruder and Ed Bruder purchase Bill Bruder Inc. in 1976 from the Bill Bruder family and proceed to merge Bill Bruder Inc. & Bruder Cartage into one company. Bruder Inc.

1978 Roberts son-in-law, Spence Wold joins the firm and soon becomes shipping and operation manager getting materials delivered to jobs quickly as you would expect of from the son of a fire department Captain.

Ed Bruder welcomes son Mike into the business in 1980 by instructing him that "we aren't any smarter than our competitors, so we need to work harder than they will to get ahead." Lesson learned.

The Department of Transportation takes the Bruder Inc. Woodland Ave. property in 2016 to improve a road from the Interstate to the Cleveland Clinic. Bruder Inc. moves to Rockside Road in Maple Hts., Ohio.

Generations of trust from loyal customers, great truck drivers and warehousemen, a loyal and hardworking sales and bookkeeping staff along with exceptional vendors like Belden Brick have provided stability and continue to offer direction in an ever-changing marketplace helping Bruder Inc. to keep many families fed and financially secure. Homes and commercial buildings continue to get built with masonry, some with Ironspot brick, in an industry we are proud to have been a small part of.